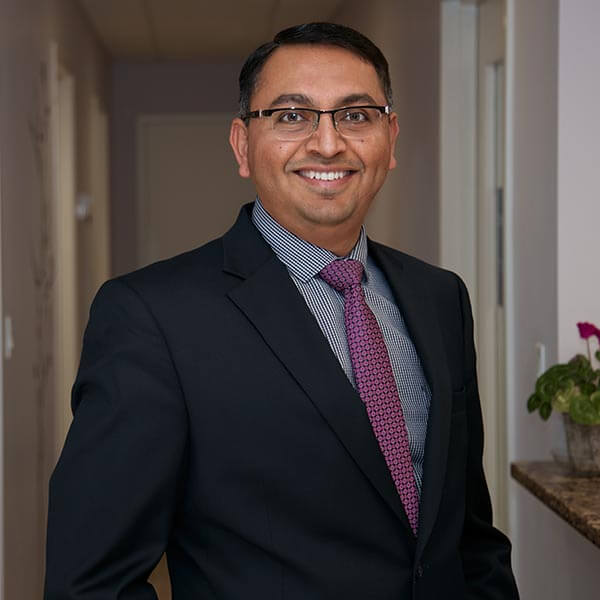 ---
"Dr. Patel believes, that a beautiful, healthy smile develops self-esteem, confidence, and can truly make patients happier in their lives."
Dr. Patel started his training in dentistry at Government Dental School in Jamnagar, India. He worked for three years in a general dental practice in his home town. From the start, patients appreciated his demeanor of comfort and competence treating those in need. Due to his love of patient and colleague interactions he pursued further education, welcoming every available continuing education opportunity to further develop his skills.
Dr. Patel went on to receive his DMD with High Honors from the Goldman School of Dental Medicine at Boston University. Following dental school, he completed his Orthodontic Residency at University of Detroit Mercy, Detroit MI and earned his Certificate in Orthodontics and Master of Science. Later he became a proud Board Certified Member of the American Board of Orthodontics.
He decided to settle in Boston and make Boston his home. It is in the Boston area that Dr. Patel has furthered his appreciation of the field, practicing as an Orthodontist and realizing the rewards of treating patients with a wealth of knowledge and a warm, compassionate demeanor.
Dr. Patel currently lives in North Andover with his beautiful wife, Bhavisha (also a Dentist) and two daughters, Riya and Yana.
Credentials
Diplomate – The American Board of Orthodontics
M.S. and Certificate in Orthodontics – University of Detroit Mercy
D.M.D. – Boston University
B.D.S. – Saurashtra University (India)
Memberships in Professional Organization
American Board of Orthodontics
College of Diplomates of the American Board of Orthodontics – CDABO
American Association of Orthodontics
American Dental Association
Massachusetts Dental Society
Indian Dental Association
---